Desert Landscaping is Low Maintenance
A well-designed desert landscape will not only add beauty to your home, but it also drastically reduces the amount of water usage. The summer here in Southern Utah can be very hot with long periods of no rain. A well-designed desert landscape provides the beauty of a southwestern look with minimal maintenance. We also install hybrid landscapes, where we use some grass within the desert landscape. This softens the feel and adds contrast and color to what many feel is too plain. Artificial grass will also give the same feel while keeping the maintenance low.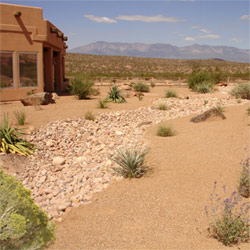 Adding a dry riverbed to your yard can be a nice accent to your landscaping. It can also function as a drainage channel by taking the water away from the structure. When we build riverbeds we like to make them seem as real as possible. With the right plant material, boulders, and mounding we beautiful dry riverbeds.
Things to think about...
With new landscaping there are many things that need to be taken into consideration. One of the most common mistakes that people make is the importance of plant selection. Usually this is simply because of a lack of knowledge of the plants growth habits. The size a plant reaches at maturity, sun exposure, heat and wind tolerance, is also very important.

Many times we have had to redo landscaping where large trees or shrubs are growing much too close to the home, and at times even cracking the foundation. It may look good when first installed, but it is very important that the landscaping adds to the property without damaging it. It is important to plan for future growth of your plants and trees.
Another very important thing that gets over looked is proper drainage. It doesn't rain much here in Southern Utah but when it does it pours. Proper drainage is easy do when the landscape is first installed, but it can be very costly to add it after everything is complete.
Why choose Eagle Creek Landscapes?
Fresh Ideas - We have a lot of ideas from our many years of experience.
Plant Knowledge - We understand growth habits, sun exposures, soil, and water.
Plant Installations - We amend the soil around the plants before we install them.
Irrigation Systems - We use the highest quality products in our well-designed systems.
Our Quality - We take pride in all of the work that we do.
Our Work and Reputation Speaks for Itself.
Contact us or click here for your free estimate.