Patios & Walkways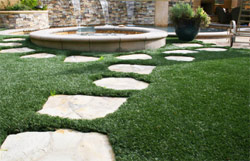 Patios and Pathways made from flagstone can be very attractive and functional. Flagstone is also comparable in price to a pathway made of other hardscapes like sand set pavers or stamped concrete.

Hardscapes is a term used in landscaping. It consists of hard structures, such as boulders, patios, retaining walls, planters and walkways used through out the landscaping.
Flagstone can also be great as stepping stones in high traffic lawn areas.