Kid Play Areas
Bike Tracks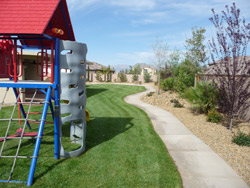 One fun thing that we've started doing in some of the landscapes is adding bike tracks for the kids. This allows the kids to ride bikes and scooter around in the safety of your backyard.
Bike tracks also work as curbing. They create the necessary edging needed for seperation of the grass from the planter areas.
Inground Trampolines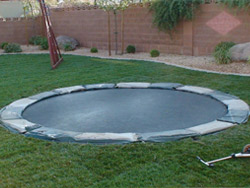 Inground Trampolines are great and kids love them.

There are many benefits:
• Most trampoline related injuries are from falling or landing off the trampoline. In ground trampolines help reduce the possibilities of injuries.
• Jumping on the trampoline is fun and great exercise.
Inground trampolines require more work, however most homeowners say it's worth it.
"We purchased a very expensive trampoline with an enclosure net. Yes, it was safe and the kids did use it. We moved to a different home that had more room in the back yard so we decided to bury it. We are shocked with how much more time the kids spend on the trampoline. It is also nice that the trampoline is no longer the focal point in the yard. Thanks!"


Stephanie - St George, UT 2008
Why Choose Eagle Creek For Your Kid Play Area?
You Will Save Time and Money When the Job is Done Right the First Time.
Our Work and Reputation Speaks for Itself.
Contact us or click here for your free estimate.